CYP's commitment is to shepherd at-risk youth from preschool through college, cultivating the healthy lifestyles and skills necessary to overcome poverty. Distinguishing program features include:
Comprehensive:
CYP's comprehensive menu is comprised of over 40 regular programs including free health care by volunteer doctors, preventative health, literacy, tutoring, mentoring, career guidance, college prep & placement, need-based scholarships, arts/cultural activities, and physical education.
Accessible:
CYP exists to serve those youth most in need and least likely to access youth services. To enable easy access to programs, all programs are free and provide free transportation.
Efficient:
Most programs operate in donated space and are primarily staffed by over 650 volunteers
Effective:
CYP tracks every child in an extensive database to ensure effectiveness. High retention with sustained involvement throughout childhood, avoidance of at-risk behaviors such as teen pregnancy and delinquency, school achievement, over 90% high school graduation rates (3X community rates) and college placement rates at or near 100% all support the program's effectiveness.
Keeping youth in positive program activities throughout a challenging childhood is a critical first step towards improving outcomes.
Retention of At-Risk Youth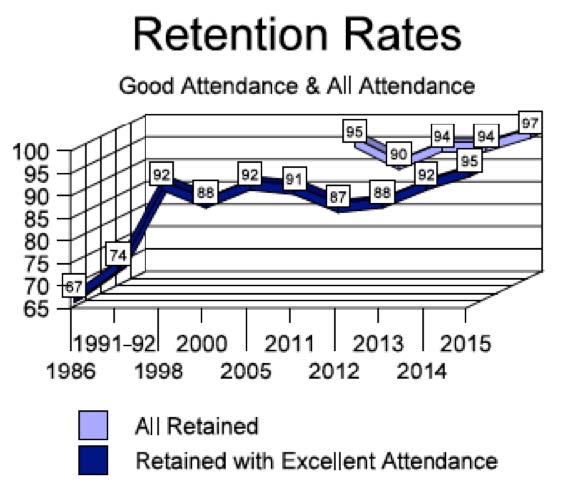 High Retention Rates -
100% of youth return to CYP each year. 95% meet high attendance standards.
Education Success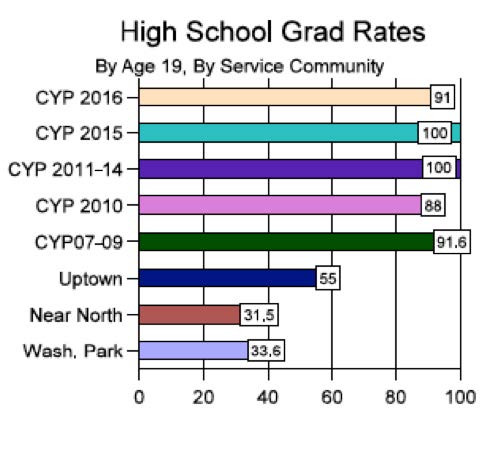 High School Graduation Rates Three Times Community Rates -
Graduation rates for 2016 were 91%, and the average for 2014-2016 was 97%.
100% College Placement Rates -
From 2014 to 2016, CYP placed 100% of program high school graduated into higher education!
To optimize their chance for success, our youth must avoid the dubious and self destructive activities common in their communities.
Avoiding At-Risk Behaviors
Teen Parenthood Rates -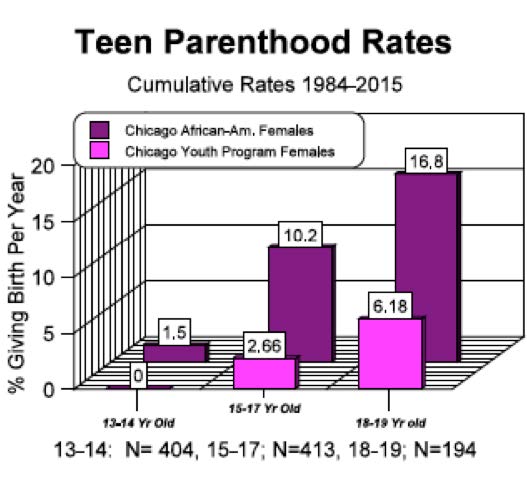 Positive Outcome at Age 18 -
This is CYP's measure of the absence of delinquency through 18 years of age. In communities where only 1/3rd of youth graduate high school alone, 90.18% of CYP youth avoided school dropout AND avoid criminal conviction, teen parenthood, gangs, and injury while participating in drug/violent activities through 18 years of age.